| | |
| --- | --- |
| Article number: | 174791-03 |
| Quantity in stock: | 1 |
Sigma Rear Brake Light
• LED brake light with replaceable CR 1025 button cell battery
• Visible red brake light when used
• Burn time: approx. 200 hours continuous light, approx. 100.000
• braking processes
• Laterally adjustable bracket with Allen key (2.5 mm), available on any bike tool
• Colour: White
• Robust, watertight housing
• Weight: 6 g

Ultra-bright LED
A small, lightweight light packed with power. A high-power LED in the BRAKELIGHT generates a bright red warning light for perfect visibility by others on the road.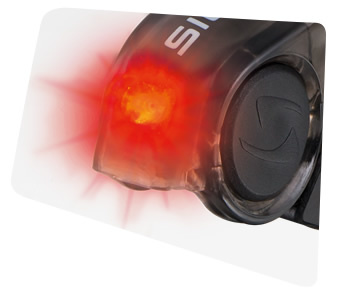 Attaches to all cable actuated mechanical brakes.
The new BRAKELIGHT from SIGMA SPORT is an innovative safety light for cyclists. The SIGMA BRAKELIGHT is compatible with all cable actuated mechanical brakes*.
The BRAKELIGHT attaches to the rear brake cable using a 2.5 mm hex wrench. Install the light with a little pre-tension, so the BRAKELIGHT illuminates with the slightest tap of the brake lever.
*requires 25mm or more of brake cable.
Disclaimer:
We are doing our best to provide accurate and up to date descriptions, specifications and images of our products, but we cannot guarantee that they are absolutely correct. Please contact us if in doubt, or to confirm a particular feature or a spec which is important to you.