JV Bike
JV Bike is an independent bicycle store located in the heart of downtown Vancouver.
We service the needs of the Urban cyclist offering an excellent range of bicycles from road, cross, touring, commuter, urban cruiser to folding, and electric.
Our offerings of cycling accessories and parts are the best among any bicycle store in Vancouver.
Sales Floor
929 Expo Boulevard
Vancouver BC
V6Z 3G8
Phone: 604-630-3798
Sales Hours
Monday to Saturday: 10 am - 6 pm
Sundays and Holidays: 11 am - 5 pm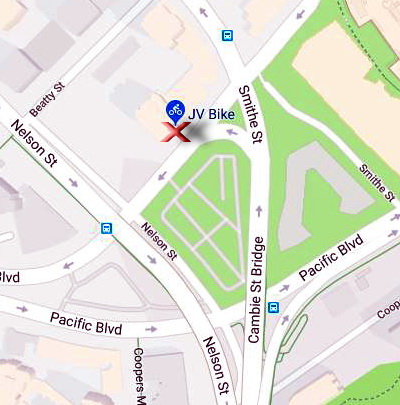 Bicycle Repairs, Service, and Rentals
955 Expo Boulevard
Vancouver BC
V6Z 3G8
Phone: 604-694-2453
Service and Rentals Hours
Monday to Saturday: 10 am - 6 pm
Sundays and Holidays: 11 am - 5 pm