BESV PSF1

Sleek. Stylish. Smart.
The BESV PSF1 understands the modern bike rider's thirst for space and freedom. While maintaining BESV's well-known stylish design, the PSF1 adds a folding feature that greatly increases convenience and functionality. Its unique integrated frame makes the PSF1 rigid as well as stylish. The LCD color display and BESV App provides smart mobility and the removable battery adds convenience. The PSF1 unfolds to bring you an amazing riding experience!

Exquisite Frame Crafted for a Stylish Ride
The BESV PSF1 maintains BESV's well-known stylish design and adds a folding feature to greatly increase convenience and functionality.
Featuring a vertically double-folding and 18kg lightweight design, the PSF1 perfectly satisfies the needs of city commutes and leisurely rides. Hop on the PSF1 and enjoy every ride!
BESV provides an optional carrying case tailored for the PSF1. Stored inside the carrying case, the PSF1 is better protected and more conveniently placed in a trunk or carried around.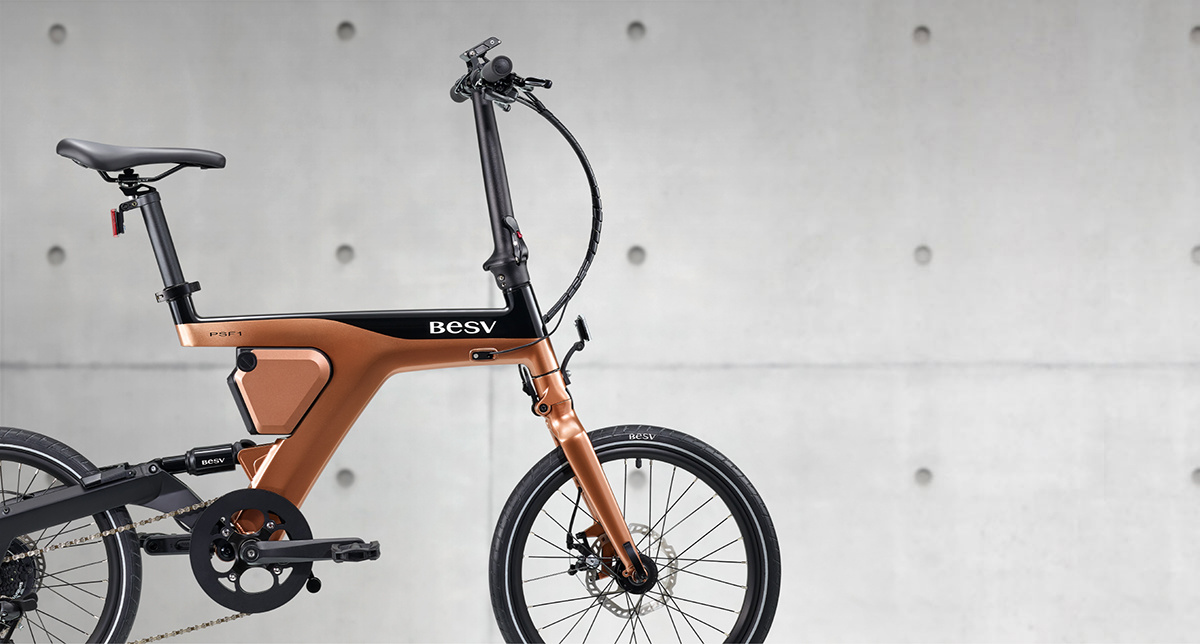 Quick and Easy Folding
The PSF1's vertically double-folding design allows you to fold and unfold quickly. When folded (L84 x W33 x H77cm), the PSF1 can be easily carried around or stored in a trunk.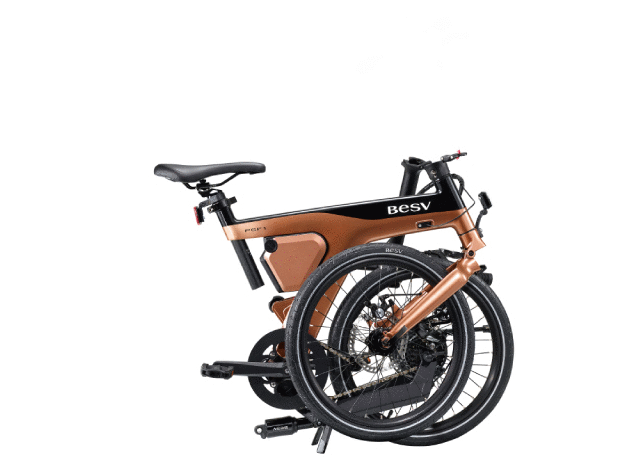 Folding steps:
1. Shift to the highest gear
2. Position the pedals vertically and pull up the supporting stand
3. Unclasp the rear wheel and fold it inward
4. Unclasp the front fork and fold it downward
5. Unclasp the stem and fold it downward
6. Lower the seatpost

Power Your Ride As You Like
The PSF1 provides assistance modes from 1 to 3 and a Smart Mode. Simply press the buttons to adjust how much power you need. Ride with ease and speed exactly the way you like it.

A Powerful Motor for Robust Performance
The PSF1 uses a small leading gear set motor, which has the gear set located on the inside. Even though it is light in weight, the PSF1's motor has been specially designed to deliver robust power.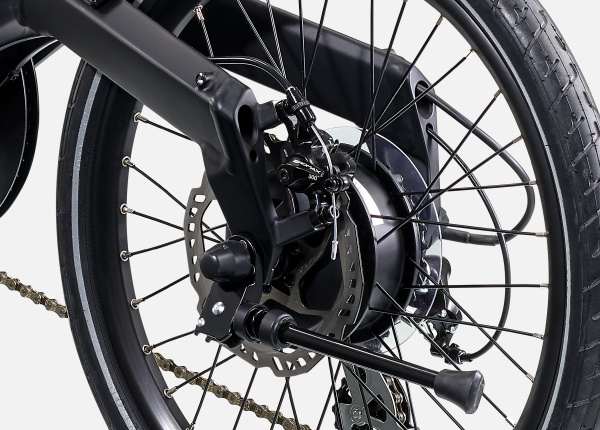 Charge Up Your Ride with Our Advanced Battery
The PSF1's highly dependable and long-lasting LG battery delivers as much as 95 kilometers of power-assistance on a full 6-hour charge. The removable battery is perfectly integrated into the frame and makes charging easy and convenient, anytime and anywhere.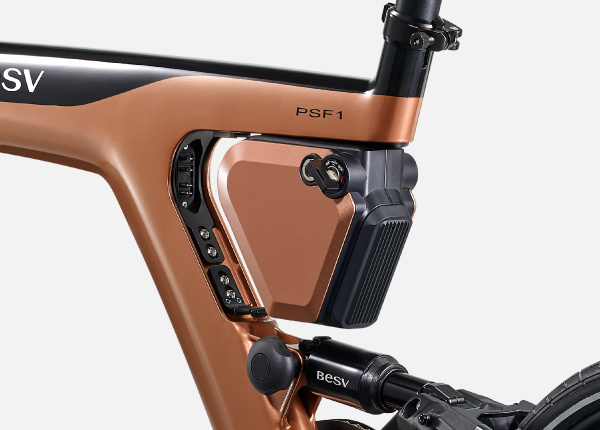 One-Step Start, and Go!
Inspired by technology from the automobile industry, the PSF1 features a one-step power start-up. Simply turn the key on and you are ready to go.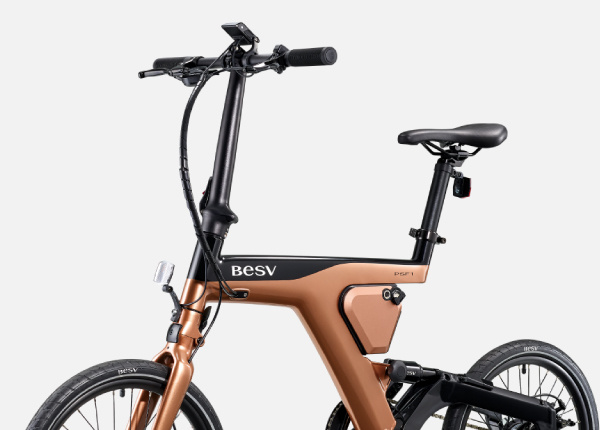 LCD Color Display: Intuitive and Convenient
The PSF1's BESV LCD color display gives you information on assistance mode, speed, riding range, battery and more. The interface even provides a USB charging port for better convenience.

Specifications
Powered by Algorhythm, our custom-built power drive system
Featuring four power options, it is easily adjusted as you choose
Removable battery for convenient charging
The BESV LCD color display offers information such as assistance mode, speed, riding range, battery and more
Designed with a rear suspension system for a more comfortable ride
Colour: gold
| | |
| --- | --- |
| Battery | 36V, 10.5Ah |
| Frame | Aluminum |
| Power Drive System | Algorhythm |
| Dimensions | 1570 x 575 x 1120 mm (61.8 x 22.6 x 44.1 in) |
| Folded Dimensions | 840 x 330 x 770 mm (33.1 x 13.0 x 30.3 in) |
| Weight | 18.3 kg (40.34 lbs) |
| Colors | Golden / Gray-Blue |
| Transmission | Shimano, Altus 7S |
| Front Fork | Folding Fork |
| Rear Shocks | KS A5-RE |
| Brakes | Leechi BL-42 |
| Tires | Duro DB7023 20x1.50 |
| Motor | 250W Rear Hub |
| Sensor | Torque Sensor |
| Assistance Modes | 4 Assist Modes(1 to 3 and Smart) |
IMPORTANT
This bicycle is not in stock yet.
We do have one demo model at our store available for test rides. We are accepting pre-orders, and this discounted price applies to pre-orders only. Expected arrival is mid to end of September 2020.
Pre-orders can be placed as a purchase through the web site, or at our store.
Disclaimer:
We are doing our best to provide accurate and up to date descriptions, specifications and images of our products, but we cannot guarantee that they are absolutely correct. Please contact us if in doubt, or to confirm a particular feature or a spec which is important to you.